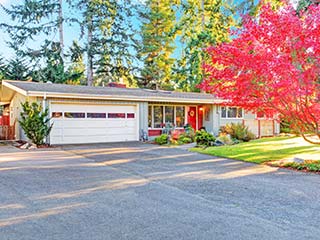 Waking up one morning to find that your garage door decided out of the blue that it's not going to open today isn't exactly fun. No, it's quite the opposite of that, in fact. But we're here to let you know that there's a way to either avoid this type of scenario, or at least get out of it really quickly when it occurs. What way, you ask? Why, calling our professional technicians, of course. It's no mere coincidence that we're widely regarded as one of the best service providers in all of Arizona. Years of dedication and hard work have led us this far, and continue to lead us into the future.
Repair Is Our Middle Name
Our company has been fixing and installing automatic garage door systems for a very long time. Over the years, we've encountered every potential problem under the sun, and dealt with it. This constant accumulation of experience is what makes us able to help every local homeowner with their overhead door and all of its different components. We always come fully equipped with all the right tools and replacement part, which is why we can take care of any problem right away, without any delays.
Maximizing Efficiency Effortlessly
One of the different services we can offer you is regular maintenance appointments. During these scheduled visits, our technicians will inspect every part of your system to make sure all the components are in a good working condition, and perform a series of safety tests and adjustment to make sure things stay optimal. We'll check the spring tension, as well as the alignment of the tracks and the opener safety sensors, and realign anything that's not in the exact position it's meant to be.
A Solution To Any Problem
Whether your cables are getting frayed and need to be replaced, or you'd like to upgrade the security aspect of your home by getting a new opener installed, our team can help. Our experts at Garage Door Repair San Tan Valley are always happy to answer any questions our customers may have. Give us a call today to book an appointment or ask us anything.
You Can Always Count On Us!
Affordable & Reliable Services
Highly Skilled Technicians