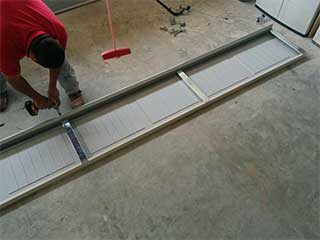 You are in a hurry to go to work, but the opener doesn't start and the garage door is stuck. This difficult situation can be more than annoying. Don't waste your time on getting frustrated – as there is a solution for every problem!
Opener Troubleshooting & Repair
Each problem comes with it's own specific symptoms. If none of your controls are working, then the problem is likely to be with the opener itself. If the motor is running smoothly, but doesn't lift the door, the trolley is most probably broken and will need to be replaced. If it makes grinding sounds and the door is stuck, the moving gear may be broken. Lastly, if the lights come on, but the opener still won't respond, then you should fix the motor. Our technicians will be able to diagnose the problem and get your door working properly again.
Fixing Broken & Worn Springs
If your springs are making squeaky sounds, this is usually a sign that they need to be lubricated right away. If there is too much or too little tension in the springs, the door will also become difficult to close or to open respectively. The solution is to adjust the tension in the required direction, which our technicians can do for you. Damaged and deformed springs should be replaced regardless of their type and design. If your spring has completely snapped, you won't be able to use your door for the time being, and will need to arrange a replacement as soon as possible.
Restoring Damaged Panels
Rust can sometimes appear on the door, especially across the bottom panel. Repairs here usually involve removing the rust with a specially formulated product. Repainting with durable exterior-grade paint is essential for protecting the door properly. Rotting wood panels will also have to be fixed as soon as the problem is discovered. The damaged wood will be removed and wood hardener applied to protect the surrounding material. After the holes are filled, repainting will be necessary for restoring the looks of your door and for additional future protection.
Do Your Tracks Need Replacing?
When is this kind of solution required? If your track is severely bent and straightening it is impossible, it will have to be replaced. In rare cases, extreme corrosion can also be a reason for changing the tracks. These components are made from galvanized steel which is usually pretty resistant to rust and corrosion, however road salt and some driveway cleaners can damage the protective coating so be careful when it comes to using these substances near your door.
Whataever the problem you're experiencing, our experts at Garage Door Repair San Tan Valley will be able to help - just give us a call!
We also offer:
Garage Door Tune Up Services
Opener Sensor Replacement
Roll Up Garage Door Services
Track Replacement & Repair